This page maintained by David Gerard.
Canberra Demo against Scientology, Thu 12 Aug 1999
All pics are self-linked JPEGs.
Photos and commentary by Fier (Hemi Hill).
---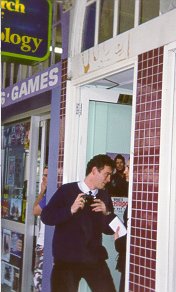 1. "Andrew, the ED of the church, scurrying back into his little criminal centre."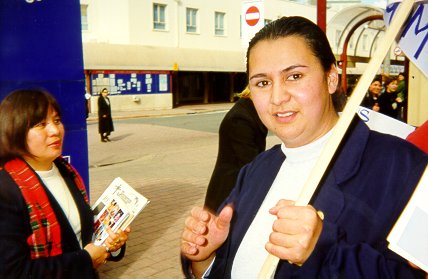 2. "Anna Detheridge - the Div 6 psycho wench ... she is the one I have trouble being civil to, with her seriously split personality and aggressive attacking manner (the embarrasment to the church)."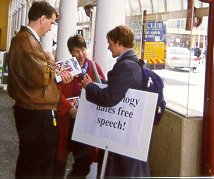 3. "'Mr Smith' (Goombaj) being given the hard word, is forced into amused defensive position."
4, 5. "Dean Detheridge - he is the one (ethics officer/slanderer) who's been in it 15+ years, married to the psycho lady, Anna." Second pic has Goombaj on the left.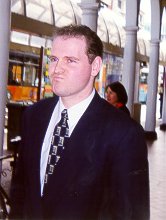 6. "Glen - HA! I used to like this guy. He is the courseroom supervisor ... was at Flag for the Golden Age of Tech."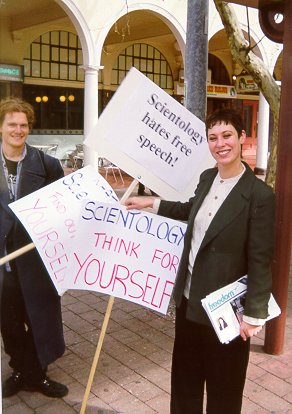 7. Signs for both sides. "The falsely presented smile of the woman to the right (Jeanette Lang, wife of word clearer) is sickening. 'I get paid 5 cents per week to smile like this!'"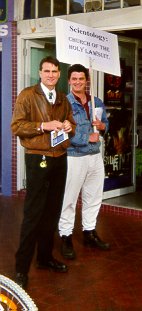 8. "There is me (Hemi), being my friendly self, next to one of the clams who followed us. 'Critic tries to befriend a sadly deluded Scientologist' or something."
---
[Demonstrations against Scientology]